Book Loving Lounge Staff Space (BLLSS) [Changhua, Taiwan]
---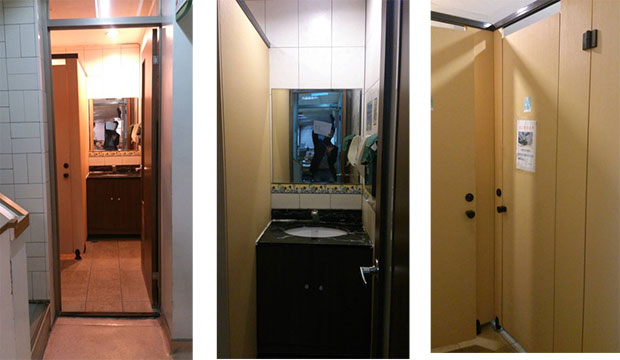 Ching-Yuan Tseng, Interior Design, Origin Design Co., Ltd.
AFTER: Staff Lounge
Ching-Yuan Tseng, Interior Design, Origin Design Co., Ltd.
AFTER: Staff Lounge
Ching-Yuan Tseng, Interior Design, Origin Design Co., Ltd.
AFTER: Staff Lounge
---
Submitted by: Show Chwan Memorial Hospital [Changhua, Taiwan]
Cost per square foot: $62
Design team: Dr. Min-Ho Huang, president; Pei-Yuan Lee, superintendent; Hui-Mei Hsu, administrative deputy superintendent; Yi-Shiuan Lin, service manager; Zih-Ping Ho, researcher (Show Chwan Memorial Hospital); Ching-Yuan Tseng, interior design (Origin Design Co. Ltd.)
Book Loving Lounge Staff Space (BLLSS) originated as an idea from the president of the healthcare system, Dr. Ming-Ho Huang. He felt that the medical staff needed a space to relax their body and reduce pressures. As doctors take care of patients they need lounge space for food and beverages, commerce, leisure, and areas with a hotel-like atmosphere such as the VIP rooms in international airports. The core values of employees at the hospital are "Concentrate on quality, Innovate in skill, and Treat patients as relatives", as well as, "Trust, Assist each other, and find Joy in work." These help the staff to offer and deliver better medical care quality in clinical medicine.
The facility and the furniture layout in BLLSS are designed according and comparable to the level of an international airport lounge. In addition to comfortable dining and a relaxing environment for the medical team, professional catering staff offer food service 24 hours a day. The Food Services staff hold national food and beverage licenses and have graduated from the national university of hospitality. Employees can enjoy breakfast, lunch, and dinner. Hospital staff can also have complimentary hot tea and other hot meals throughout the day as well as snacks. The large space of more than 3,500 square feet accommodates a variety of lifestyle choices and activities, and the electronic devices are free to use. The multifunctional conference room is a hybrid food and beverage room featuring high-quality videoconferencing, telecommunication, a bright reading area, internet access, and a 24-hour eating area. The massage and shower area, and the popular proprietary lounge are where staff can  rest before or after work.
The core concept of the whole interior design is natural. Using warm design, economical and sustainable craftwork was the main focus. Hybrid reality, music, furniture, lighting, and materials bring innovation into the life environment with the sense of natural sunlight, birds, a garden, clouds, grassland, and greenwood to deeply touch the movement of heart in living space. Let staff in a hospital dream of mountains and water. Let heavy, stressful work be released like a warm spring. Only when staff is satisfied, will the hospital find more satisfied patients and gain the next sustainable development environments.
Jury Comments:
- Great acknowledgement of staff and their needs, outside of the clinical environment. Calm, soothing design.
- Whimsical and airy finishes impressive for the price point, serve to maximize the space.
- Appreciate the book lovers, massage and air lounge feel.
- Wow. This project hits all of the talking points of an all-inclusive (and beyond by US standards), well rounded staff activity and respite space, not to mention it is in a beautiful spa like environment.