Class Act: University of Connecticut Dempsey Tower
---
Janine Gelineau/UConn Health
The University of Connecticut Health Center Dempsey Tower is oriented to maximize views to the outdoors and staff and public elevators are kept separate to improve workflow efficiencies.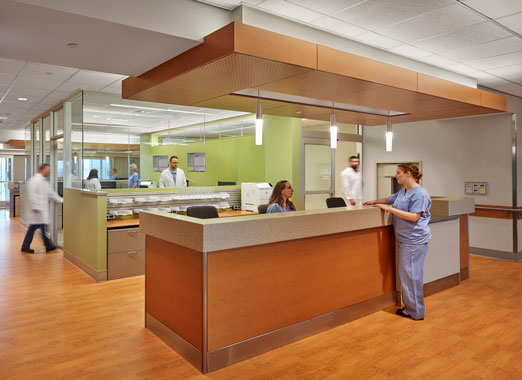 ©Robert Benson Photography
Nurses stations are designed with glass-enclosed teaming rooms where academics, researchers, and clinical practice staff can collaborate.
©Robert Benson Photography
The tower's operating suite includes spacious 600-square-foot ORs, each equipped with high-tech equipment, including large plasma screens, LED surgical boom lights and high-resolution video systems with real-time video and photo image capabilities for direct communication with the Department of Pathology during surgery or supporting other audiovisual needs such as teleconferencing and live-broadcasts of surgery for physician training or medical education.
---
Having operated its current facility since the early 1970s, the University of Connecticut Dempsey Hospital was faced with an out-of-date building with undersized rooms, inefficient mechanical systems, small floor plates, and a lack of staff collaboration spaces.
Rather than invest in expensive mechanical updates that would still leave it with an undesirable footprint and inefficient rooms, Thomas Trutter, associate vice president of campus planning, design, and construction at UConn Health, says the provider decided to seek a combination of state and non-state funds to construct a new inpatient tower.
The 320,150-square-foot building, which opened this past May and was designed by SBA|HKS, accommodates 169 med/surg beds, 12 ORs, and a 36-bay emergency department. The private patient rooms are sized to accommodate family members as well as the large groups of staff members on rounds, while new staff teaming rooms are located on the end of each floor along with staff respite areas with windows.
Additionally, state-of-the-art technology is incorporated into the ORs, including video cameras to live-stream procedures to academic classrooms. Smart beds in the inpatient rooms allow patients to control their room environment while also alerting the staff when patients get out of bed.
Anne DiNardo is senior editor of Healthcare Design. She can be reached at anne.dinardo@emeraldexpo.com.
For more on academic medical centers, check out:
"Trend Report: Academic Medical Centers"
"Class Act: University Of Minnesota Health Clinics And Surgery Center"
"Class Act: University of California San Diego Health System Outpatient Pavilion"