Building Synergy: South Philadelphia Community Health and Literacy Center
---
Matt Wargo
The entry corner plaza at South Philadelphia Community Health and Literacy Center is sited above a subway stop for easy access. The double-height interior core maximizes natural light and showcases the activity inside.
Matt Wargo
Colorful multilingual signage in the main lobby reflects the vibrant diversity of the community.
Matt Wargo
The Free Library branch on the first floor includes flexible furnishings.
Matt Wargo
Health Center #2 on the second floor offers dental services as well as general medicine and pediatrics. The linoleum flooring and molded plastic furnishings are durable and easy to clean.
VSBA Architects & Planners
The waiting room for the CHOP primary care clinic on the third floor features floor-to-ceiling windows, soft textures, and play structures.
Matt Wargo
Exam rooms in CHOP's clinic feature bright colors and plenty of natural light.
VSBA Architects & Planners
A hallway reading nook in the CHOP clinic is a welcome diversion while waiting to see the doctor. Visitors can check out books in the first-floor library.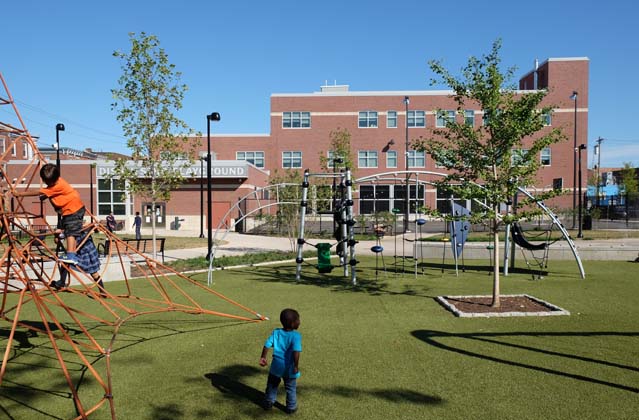 VSBA Architects & Planners
The DiSilvestro Playground was designed as an urban park and includes recreational elements, including play structures and game tables, for people of all ages.
---
South Philadelphia Community Health and Literacy Center represents a new chapter for three organizations serving South Philadelphia. Designed by VSBA Architects & Planners (Philadelphia), the new 96,000-square-foot building replaces three 1960s-era structures—a public health clinic, a branch of the Free Library, and a recreation center—that existed separately on the site. The new $42 million center, which opened in June 2016 and spans a city block, brings these functions together while also incorporating a pediatric primary care practice owned by Children's Hospital of Philadelphia (CHOP).
Cheryl Kramer, director of operations and ambulatory health services for the Philadelphia Department of Public Health, was director of the public health clinic in 2012, when a renovation was first considered. She says the clinic was having difficulty managing a high demand for services, with new patients waiting several months to be seen, and hoped to add square footage to accommodate more exam rooms and physicians.
At the same time, a new city health commissioner was appointed—a physician who formerly worked at CHOP—who knew of CHOP's desire to expand its service area to include South Philadelphia. As leaders of the healthcare organizations discussed opportunities for the site, a collective vision began to emerge that included not only clinical space but a new home for the rec center and library. The result is a unique public-private partnership between CHOP and the city that creates opportunities for collaborative programming between the entities.
Construction began in October 2014, and the project opened in May 2016. The words "South Philadelphia Community Health and Literacy Center" span the width of the building in capital letters, while vertical stripes of blue, green, yellow, red, purple, and orange punctuate the façade. Large glass windows provide glimpses of the activity inside.
A spacious entry plaza greets visitors, while around the corner, the exterior design pays homage to the neighborhood row houses with traditional red brick, punched window openings, and a cast stone base. The rear of the site houses a playground, spray park, and full-size basketball court.
Inside, the 12,000-square-foot Free Library branch is on the ground floor and houses a Community Health Resource Center, with staff trained by the University of Pennsylvania Center for Public Health Initiatives, and features health-related programming like CPR classes and health insurance guidance.
The second floor is home to City Health Center #2, which provides services to adults and children without health insurance. A pharmacy and lab are positioned at the front of the suite, off the elevator lobby, for patients who are stopping in for prescriptions or tests. The 28,500-square-foot health center was also designed to support unexpected care.
"There are many walk-in patients without appointments who need to be triaged, so we provided triage rooms immediately adjacent to the waiting areas, which helps reduce waiting times and allows for a greater number of patients to be seen," says Seth Cohen, senior associate at VSBA and the project manager and co-designer on the health center project.
The health center's specialty services are organized by hallway with spaces designed to be flexible to accommodate varying patient flows. There's a general waiting area as well as dedicated internal waiting spaces for general medicine, pediatrics, and dentistry; the facility has 37 exam rooms.
To help patients navigate the space, color is used extensively on the flooring, walls, and signage, with green used for the general medicine suite, blue for pediatrics, and orange for dental.
The CHOP primary care facility, located on the third floor, is distinguished by a broader color palette, including purple and red colors. Patients and families can check in at the registration desk or by using nearby kiosks, while a reading corner, mosaic mural crafted by patients, play structures, and public computers provide "plenty of opportunities for engagement," says Cohen.
The CHOP clinic houses 34 120-square-foot exam rooms, organized along four color-coded hallways in an open-square pattern with a nurses' station, medication room, and staff touchdown spaces in the center.
The rec center is accessed through a separate entrance at the rear of the building and includes a computer lab, support spaces, and a large multipurpose room for indoor games and activities.
By bringing these diverse services together under one roof, the center enables interplay between the service providers. A committee meets monthly to develop joint programming such as a recent health fair, and CHOP physicians work with the rec center to provide structured programming for kids around fitness and maintaining healthy weights. CHOP staff distribute library card applications to new patient families, and a nurse conducts a monthly story hour on a health-related topic.
The building also answered the original need to increase healthcare services to the area, with the city health clinic managing nearly 50,000 visits per year, and CHOP managing approximately 35,000 visits annually.
Jennifer J. Salopek is a freelance writer in McLean, Va. She can be reached at jjsalopek@outlook.com.