PHOTO TOUR: Pine Rest Christian Mental Health Services
---
Push Button Photography, LLC, owner Paul Bomers
The new front entrance for Pine Rest Christian Mental Health Services inpatient hospital at the Jay & Betty Van Andel Center is easy to see on the large campus at night with its two-story lighted entranceway.
Push Button Photography, LLC, owner Paul Bomers
The lobby is designed to convey the principles of the hospital's model of care—a place of caring, welcoming and healing. By using design elements such as natural light, white noise, a fireplace feature and comfortable furnishings in combination with the staffed welcome desk, guests will feel at ease while they wait for a visit or appointment.
Push Button Photography, LLC, owner Paul Bomers
The Contact Center (admissions) has a separate space intended for adults and children who are waiting for assessment. It is designed to protect recipient's privacy with both dignity and respect. Beyond the waiting area are these assessment rooms, along with ample clinician workspace.
Push Button Photography, LLC, owner Paul Bomers
The Pine Rest hospital Cypress Unit for adolescents and young adults is comprised of two nearly identical patient care areas connected by a flex additional six-patient beds hallway and treatment mall. Here is the television center and lounge area of the young adult wing.
Push Button Photography, LLC, owner Paul Bomers
Both wings on the Cypress Unit have a sensory room that features bubble tubes, large outdoor scenery art, changeable ceiling patterns, audio capabilities, television screens and comfortable seating to create a calming environment.
Push Button Photography, LLC, owner Paul Bomers
Patient rooms feature open shelving in both the wall and beneath the bed, a reading bench at the window and a bathroom with several built-in safety features. Technological innovations include patient-safe clocks, night light, white noise and controls to personalize music.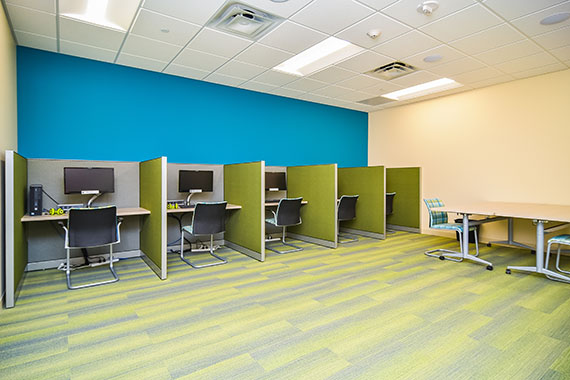 Push Button Photography, LLC, owner Paul Bomers
The uniquely designed treatment mall concept maximizes resources by allowing patients from both wings to share access to an activity therapy classroom, technology room and exercise equipment. Locked doors on either end of the hallway ensure safety and privacy by allowing staff to monitor which patient population enters the treatment mall at a given time. This technology room is used with staff supervision.
Push Button Photography, LLC, owner Paul Bomers
A plant feature on both wings is a particular focus to bring the outside in, along with spacious windows and skylights.
Push Button Photography, LLC, owner Paul Bomers
A quiet lounge space allows patients to relax, away from the unit. It is also used for group therapy sessions.
Push Button Photography, LLC, owner Paul Bomers
There are outdoor courtyards for both wings providing the opportunity to enjoy nature. One courtyard has a basketball hoop and the other a volleyball court.
---
Pine Rest Christian Mental Health Services opened its 26-bed psychiatric patient unit for adolescents and young adults on July 5, 2017. The 26,600-square-foot facility is called the Cypress Unit. Pine Rest also re-built its front hospital entrance and Contact Center (admissions department). Both are located at the Jay & Betty Van Andel Center on the Pine Rest Cutlerville Campus in Grand Rapids, Mich. The total construction cost of the 3-year project was $12.4 million.
With this unit, Pine Rest is able to serve 1,200 more adolescents and young adults annually. The facility meets the needs of patients and their families with a design that is welcoming, flexible, therapeutic and safe.
Pine Rest contracted with BWBR Architects (Saint Paul, Minn.), a behavioral healthcare facility designer. BWBR organized a focus group with members from the National Alliance on Mental Illness who spoke about their personal experiences in a behavioral health setting. Staff also gave input, especially those who worked on other recently built patient units at Pine Rest. Tours of other behavioral health facilities were taken and the National Association of Psychiatric Health Systems' Behavioral Health Design Guide was used during the design process.
Local firm Elzinga & Volkers Construction Professionals (Holland, Mich.) was the construction manager who worked with local trade partners to create a healing space. The Cypress Unit was built with an innovative flex design which allows it to split into two sides, creating immediate access for two distinct patient populations. It gives staff the ability to separate out these age groups.
The purposeful design of the unit, incorporating natural light, open sight-lines, optimally placed nurses' stations, treatment mall, safe entryway called a sally port, designated staff and utility entrance, and staff personal alarm system seamlessly blend safety and efficiency in a space that remains warm and inviting to those in need of care.
Rebuilding the hospital main entrance and new Contact Center was necessary for an improved admissions process for hospital patients. The volume of patients registering at the Contact Center had increased dramatically in the years since the space was designed. People who come for an assessment are taken into a separate pre-assessment waiting space for adults and children. The assessment center is open and welcoming, and there is a separate ambulance entrance. The new lobby features a fireplace element. Both spaces were built using natural light and comfortable furnishings.