PHOTO TOUR: Surrey Memorial Hospital Child and Adolescent Psychiatric Stabilization Unit
---
© ANDREW LATREILLE
The Child and Adolescent Psychiatric Stabilization Unit is designed to be a calming environment for patients ranging in age from young children to teens, with careful consideration to acoustics, dimmable lighting, and modular furniture.
© ANDREW LATREILLE
By reducing the number of walls separating the group areas, daylight from the unit's one window can permeate the entire unit. The window graphics create privacy and conceal a view of a parking lot, while adding an element of fun.
© ANDREW LATREILLE
The design of the space allows clear sightlines from the nurse station to the lounge areas and communal dining area. With a low counter, the staff can interact with the patients at their level, creating welcoming engagement and a feeling of security and comfort.
© ANDREW LATREILLE
The environmental graphics are based on the concept of the journey of a body of water as it travels through four distinct ecosystems: mountain, forest, wetland, and ocean. The orange doors on the bedrooms are magnetic and can be personalized by patients using a selection of magnetic images and letters.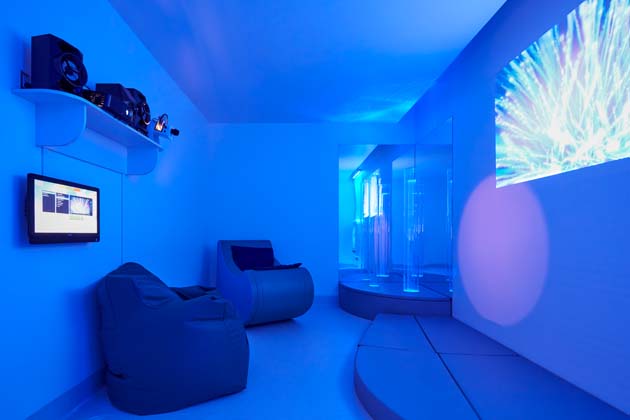 © ANDREW LATREILLE
The unit's Snoezelen Room, a multisensory environment used to help reduce agitation and anxiety and stimulate and encourage communication, is one of the first of its kind for children and youth in a hospital psychiatric unit in Canada.
© ANDREW LATREILLE
Modular furniture is used throughout the spaces to allow flexibility. Patients can arrange the pieces as a couch to watch movies together or pull them apart when they want some quiet time. The furniture can also be cleared out to open the space for group activities such as yoga or a guided meditation.
© ANDREW LATREILLE
The open dining area includes a kitchenette to prepare snacks for the patients and casual setting where patients can have meals, snacks, and play board games.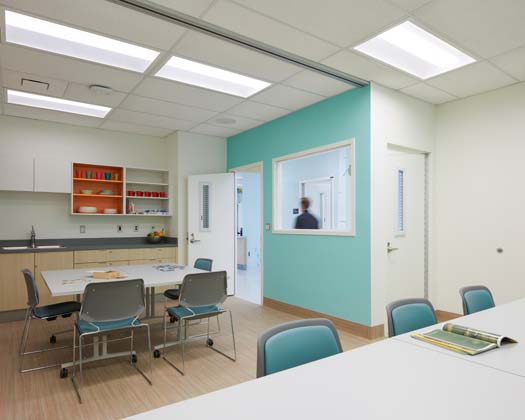 © ANDREW LATREILLE
The group room features an accordion wall to separate the space for different activities.
---
The Child and Adolescent Psychiatric Stabilization Unit (CAPSU) at Surrey Memorial Hospital in Surrey, British Columbia, Canada, is a specialized unit for children and teenagers with urgent mental health issues requiring a five- to seven-day stay in the hospital for stabilization. The 10-bed unit opened in May 2017 in a renovated space previously occupied by the hospital's emergency department. A major challenge faced in the design process was how to configure the space given that there was only one exterior window to bring in natural daylight. Through a collaborative and Lean-based planning process, KRA—Kirsten Reite Architecture (Vancouver, British Columbia, Canada) worked with clinicians to remove redundant programing, which allowed the space to be opened up. The project team also defined a back-of-house area for staff and created a large, open multipurpose lounge, dining, and activity space for patients.
Project Details:
Facility name: Surrey Memorial Hospital Child and Adolescent Psychiatric Short Stay Unit
Location: Surrey, British Columbia, Canada
Completion date (month and year):  May 2017
Owner: Fraser Health Authority
Total unit area: 5,920 sq. Ft.
Total construction cost: $2.8 million
Cost/sq. ft.: Approx. $470
Architecture: KRA—Kirsten Reite Architecture
Interior Design: KRA—Kirsten Reite Architecture
Environmental Graphics: Signals Design Group
Contracting/Construction: Kinetic Construction Ltd.
Engineering: Bush, Bohlman and Partners (structural), AME Consulting Group Ltd. (mechanical), MMM Group Limited (electrical)