PHOTO TOUR: Shriners for Children Medical Center
---
Nils Timm
The two-acre site is divided into a medical building on the northern half of the property and therapeutic gardens and outdoor gathering areas on the south side. The contemporary architecture of sweeping horizontal planes, cantilevers, and setbacks, along with region-sensitive landscape, is consistent with the modernist legacy of Pasadena.
Tom Bonner
CO Architects and SRG Partnership created the interiors with a focus on color and shape, while steering clear of childish clichés. The colorful forest theme starts in the main lobby, which also sports swirls of colored terrazzo flooring. An interactive feature wall draws kids into the space and changes images with kinetic motion ignited by touch. Colorful furnishings provide a variety of seating arrangements to accommodate families.
Tom Bonner
Custom-designed murals depicting flora and fauna in colorful silhouettes run along the corridors, inviting discovery on the way to waiting areas and treatment rooms (which also sport similar graphics), while acting as positive distractions for children under stress.
Tom Bonner
Child-centric design strategies focus on improving patient comfort and promoting healing, while saving energy and operating costs. For example, LED lighting is used in all hallways and exam and x-ray rooms where patients can change the color of the illumination, which acts as a pleasant distraction from the clinical processes taking place.
Tom Bonner
An interior courtyard is located adjacent to the surgery waiting room and provides access to daylight and the outdoors. Large-scale graphics of trees and plants in subdued colors on the walls wrap the courtyard and waiting room, providing a seamless exchange between indoors and outdoors. This therapeutic garden also includes a mound on which to exercise and serves as a waiting play space for patients' siblings.
Tom Bonner
Pre-op and post-anesthesia care units (PACU) rooms are located on the north side of the second floor with windows for direct access to daylight. The rooms are private, both visually and acoustically, to preserve patient dignity. Patients can control room lighting, entertainment, and education systems, as well as nurse assistance needs, giving them greater autonomy and sense of control.
Tom Bonner
Indirect daylight provided in operating rooms boosts surgeon and staff awareness and energy. Glass on the exterior reflects solar heat and redirects and diffuses visible light into the building, while maintaining transparency. Natural light shines into interior spaces through windows with glare-preventing shades.
Tom Bonner
The solar orientation of the building, courtyard, and upper story terraces takes advantage of the sun as a daily amenity. On the second floor, rehabilitation treatment occurs on the east side of the building to capture clear vistas of the foothills.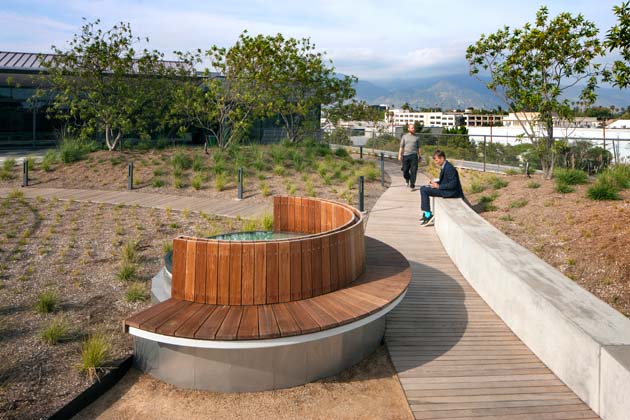 Tom Bonner
Rios Clementi Hale Studios designed the multilevel landscape for healing, reflecting, and gathering. A third-floor sky garden provides an outdoor gathering area and setting for events, such as fundraisers. This large space, accessible from a conference/meeting room, includes a planted strolling garden with a boardwalk that leads through trees, native grasses, and views of the San Gabriel Mountains.
Tom Bonner
The outdoor areas are inspired by various ecological and cultural aspects of the Pasadena region. For example, the rose, Pasadena's official flower, led to the vibrant plantings and shade canopies of the gardens and plaza at the front of the site. Meandering paths, stairs, and ramps throughout this area allow young patients to exercise and traverse a variety of terrain as they heal.
---
In response to Shriners Hospitals for Children's new business model, which is moving the organization away from owning and operating acute care hospitals to focusing on outpatient services for young patients, Shriners opened a new three-story, 74,800-square-foot outpatient facility in Pasadena, Calif. Designed by CO Architects (Los Angeles), SRG Partnership (Portland, Ore.), and Rios Clementi Hale Studios (Los Angelels), the Shriners for Children Medical Center, which opened in June 2017, combines surgery rooms, clinical services, rehabilitation spaces, and healing landscapes. The facility also has a three-level underground parking garage for 210 cars. Designers developed creative solutions leveraging evidence-based design strategies that incorporated natural light throughout interior spaces as well as therapeutic gardens to create a supportive environment conducive to well-being, healing, and community.
Project details:
Facility name: Shriners for Children Medical Center
Location: Pasadena, CA
Completion date: June 2017
Owner: Shriners Hospitals for Children
Total building area: 74,800 square feet
Architecture, interior design, environmental graphics: CO Architects
Executive architect (medical planning and interiors): SRG Partnership, Inc.
Landscape architect: Rios Clementi Hale Studios
General contractor: DPR Construction
MEP engineer/lighting: EXP
Structural/civil engineer: KPFF Consulting Engineers
Medical equipment planner: Mazzetti + NLB