PHOTO TOUR: Boston Children's Hospital Simulation Center
---
Anton Grassl
Sim Lab 1 is a multipurpose conference debriefing room which doubles as a training space and exam room with glass walls and 18th floor views of Boston's Longwood Medical Area. Anton Grassl
Anton Grassl
A transparent entrance to the 5,300-square-foot Boston Children's Simulation Center provides a visual connection into activity inside, and supplements Boston Children's established brand. The center's location, in close proximity to patient care facilities, offers easy access for busy clinicians.
Anton Grassl
The reception area design matches Boston Children's brand image in its colors, patterns, and the use of circle shaped graphics. Objects within the wall art feature can be customized for a specific event or individual, such as a 3-D laser print of a child's heart. The area can also be staged to simulate a crisis for a training session.
Anton Grassl
In Sim Lab 1, all clinical equipment can be hidden and furniture overlays added to replicate a child's bedroom or create a sleep lab simulation. This setup is often used to help families and children learn how to use medical equipment and to execute rehabilitation at home following hospitalization.
Anton Grassl
Sim Lab 2 is one of three labs designed for multiple simulation settings and training scenarios. With rollaway furniture, it can be set-up as a skills lab for hands-on instruction and as a trauma/ICU room.
Anton Grassl
Sim Lab 2, with its tables removed, can be converted into a trauma bay matching the existing hospital room configuration, equipment, and design features.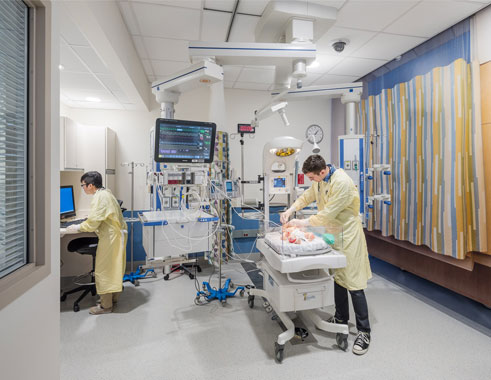 Anton Grassl
Sim Lab 2 can be set up to accommodate a variety of ICU scenarios. A roll-down screen (shown at right) is fabricated to replicate the curtains found in the hospital's ICU and trauma bays.
Anton Grassl
The backstage control center runs all simulations in the three labs, including patient voices, pumping fluids into the simulated patients, and changing patient vital signs. Monitoring is via cameras rather than using one-way glass windows, which can distract the team.
Anton Grassl
Sim Lab 3 shown during a surgery simulation. All equipment, infrastructure, and room conditions match Boston Children's standards, promoting a high level of realism. Anton Grassl
Anton Grassl
The large conference room, which divides into two using a folding wall, serves as a debriefing room and conference session space. The SIM Center hosts groups from all over the world interested in the SIMPeds program experience at Boston Children's.
---
Since 2001, patient care teams at Boston Children's Hospital have used simulation to rehearse for surgical procedures and train caregivers. The rehearsal and training practice quickly became a vital staff resource, and an essential part of hospital culture. The new Simulation Center at Boston Children's accommodates the growth of the Simulator Program (SIMPeds) and provides a 5,300-square-foot dedicated space using state-of-the-art simulation practices and technology. The center, designed by Lavallee Brensinger Architects and built by construction manager Bond, opened in May 2016.
One of the challenges faced when creating a hospital-based simulation facility is lack of available space. The solution at Boston Children's is a multipurpose, flexible design allowing each sim lab to replicate two to three different settings within one space. Three sim labs can be easily converted to adapt to several training scenarios: acute care, outpatient services, home care, and others. Enhancing these experiences is a "backstage" control center where technicians oversee the functions of the center's lighting, sound, simulated patient manikins, and specific case scenarios.
The center promotes multiroom and multidisciplinary training within and between simulated departments. It includes a skills training lab, fully equipped operating room, ICU, trauma bay, ambulatory exam room, nursery, child's bedroom, and nurse's support alcove.
In addition to medical team training, the center will serve as a resource for families with children needing specialized care at home. A nursery and child's bedroom can be configured to train family members in using medical equipment and providing the hands-on care a child needs following discharge.
VIDEO:
Fractured FX, a Los Angeles special effects company known for crafting medical realism filmed on the sets of Hollywood productions, worked with the SIMPeds team to create accurate anatomical models for use in the center. Their role in bringing next-generation simulators is shown in this video produced by Boston Children's. They work directly with the Simulation Center Engineering Team in a new 2,800-square-foot dedicated suite.