Preserving An Icon: Salk Institute For Biological Studies
---
Salk Institute
Architect Louis I. Kahn, in collaboration with Jonas Salk, designed the structure with a central plaza framed by paired buildings.
Salk Institute
The labs are enclosed by Starlux polished plate glass with 316 stainless steel frames, and the courtyard is made up of light Roman travertine.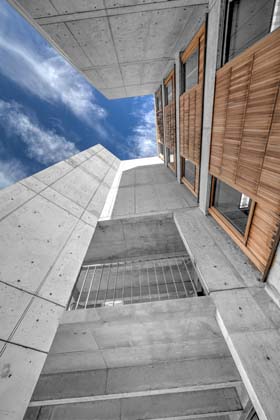 Salk Institute
The exterior of building is made up of Riverside pozzolan blended lightweight concrete composed of sand and pumice aggregate combined with a teak window wall system in the study towers and office wings.
Salk Institute
The lighting was renewed in 2012 with highly efficient fittings, but maintains the layering of the ceiling grids intended by Kahn.
Salk Institute
The laboratories model high flexibility. Lack of barriers or walls between labs allows one principal investigator's scientific community to adjoin another, encouraging a flow of ideas and processes.
Salk Institute
The work done on the teak window assemblies will extend the life of the wood for another 50 to 70 years.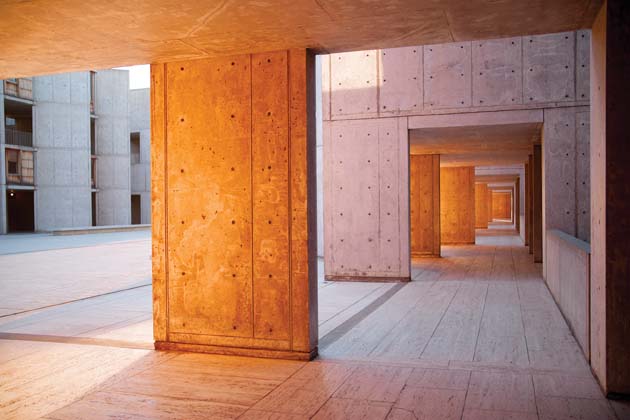 Salk Institute
The main change over time has been the increase in occupation of the laboratories, which has resulted in more intensive use with several researchers occupying the space previously allocated to one. Ball says increasing the density of the laboratory outfitting is in line with the flexibility in layout and servicing for which the building was designed, but it has also caused storage and bench space to extend across the windows, eroding the connection with the outside environment that was so important to Kahn and his client.
---
Shortly after Jonas Salk announced he had developed a successful polio vaccine in 1953, he began working on his next project: a building that would allow for collaborative research among scientists to develop additional cures. In 1960, Salk partnered with architect Louis I. Kahn to make his dream a reality, opening the Salk Institute for Biological Studies in La Jolla, Calif.
"Kahn's design for Salk is much more than an architectural landmark," says Tim Ball, senior director of facilities services at the Salk Institute. "It is a working laboratory occupied by several hundred scientists, students and support staff. The design gives the complex not only a monumentality but it also represents the Institution and its work for society."
Today, the iconic, 60-year-old modernist structure is in need of preservation. Recently, the building underwent a $9.8 million multiyear project completed in partnership with the Getty Conservation Institute to conserve the building's teak window systems, including refinishing 70 percent of the assemblies; replacing the exterior teak tongue-and-grove siding, window frame, and sash elements; and adding new treated wood framing.
To address future preservation needs, such as remedial surface work to steel, glass, concrete, and travertine, that must be carried out in a way that retains visual continuity with the original surface, the institute launched its Architecture Conservation Program in June, with a lead gift from the son of Jonas Salk, Jonathan Salk, and his wife Elizabeth Shepherd.
"The Salk Institute is an important component of the legacies of both Jonas Salk and Louis Kahn," Ball says. "Preserving the architecture that embodies their vision enables us to give a home to the finest scientific minds in the world to explore the foundations of life. Ultimately, that's a legacy for all humankind."