SPONSORED
University of Iowa Stead Family Children's Hospital
---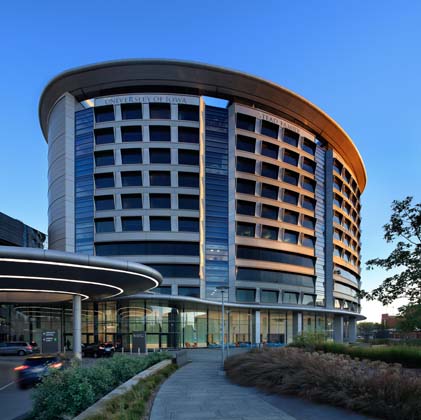 © Wayne Johnson, Main Street Studio
Exterior View from Hospital Main Entry
© Wayne Johnson, Main Street Studio
Exterior View from Park
© Nigel Young / Foster + Partners
Exterior View from Drop Off Canopy
© Halkin Mason Photography
Interior Entry Lobby
© Wayne Johnson, Main Street Studio
Patient and Family Roof Garden
© Wayne Johnson, Main Street Studio
Med Surg Room
© Wayne Johnson, Main Street Studio
Inpatient Isolation Room
© Wayne Johnson, Main Street Studio
Outpatient Infusion Room
© Halkin Mason Photography
Lightwell Playroom
© Wayne Johnson, Main Street Studio
Donor Wall with Floor Icons
© Halkin Mason Photography
Pediatric Intensive Care Unit Entry Desk
---
AWARD OF MERIT
Submitted by: CBRE | Heery (Iowa City, Iowa)
The University of Iowa Stead Family Children's Hospital (Iowa City, Iowa) provides an innovative, comprehensive healthcare system for children. Previously, pediatric services were scattered across the campus, forcing parents to make multiple visits to address their children's healthcare needs. Now that all services are housed under one roof (14-story, 134 beds), the quality of care is enhanced through unified care-team collaboration. The facility includes a 28-bed Pediatric ICU, 32-bed Neonatal ICU, two 28-bed Medical/Surgical Units, 8 Operating Rooms, Infusion/Dialysis Center, and Pediatric Cancer Center. The two below-grade levels house Radiology and Procedural suites. Two shell floors are reserved to accommodate future healthcare needs. The lobby offers large floor-to-ceiling glass windows to create a dramatic visual connection to the outdoor gardens and play areas.  A theater, dining area, library, and gift shop are located off the lobby and contribute to the healing environment. The top level contains an outdoor garden, café, chapel, break-out support areas, and the "Press Box" with views into neighboring Kinnick Stadium.
The building is an oval tower in plan whose axis is skewed from the surrounding Jeffersonian grid. The unique curvilinear design, with edges trailing seamlessly and fluidly, generates interest from all angles and approaches. This exterior design breaks the wind and reduces the force exerted on the envelope, while the curves inside mitigate noise, enhance patient comfort, and promote safety. Impact resistant glass and a reinforced unitized rain screen are used to further enhance safety and maintain the building's operations during severe weather.
Natural daylight plays a key role in the design, which incorporates unprecedented amounts of glass in a hospital facility. This contributes to patient healing and creates a welcoming community landmark. Designers were careful to study orientation and best shading practices to determine optimum glazing and envelope materials. Eight light wells on each floor allow light to penetrate the interior core of the building and provide a better working environment for staff. The light wells include special amenities such as parent respite rooms, staff lounges, gathering spaces, and play areas.
The Children's Hospital is designed as a healing environment to minimize stress, encourage hope, and provide comfort. Every detail has been planned to meet the unique needs of the patients and their families. Careful integration of enhanced privacy, reduced risk of infection, intuitive navigation, state-of-the-art technology, elements of learning/discovery/distraction, and newly expanded services all positively impact the outcome of each patient.
Project Category: New construction
Chief Administrator: Amy O'Deen, interim executive director, University of Iowa Stead Family Children's Hospital
Firm: CBRE | Heery, www.heery.com
Design Team: CBRE | Heery (architect); WSP (MEP engineer); Foster + Partners (project designer); Zimmer Gunsul Frasca (integrated environment designer); Stanley Beaman & Sears (children's advocate architect); Gustafson Guthrie Nichol (landscape architect)
Total Building Area (Sq. Ft.): 507,020
Construction Cost/Sq. Ft.: $483
Total Construction Cost (Excluding Land): $245 million
Completed: February 2017