The HCD 10 Clinician: Manuel Hernandez
---
© CannonDesign, Photographer Laura Peters
An inpatient behavioral health unit at Sinai Health System's Holy Cross Hospital.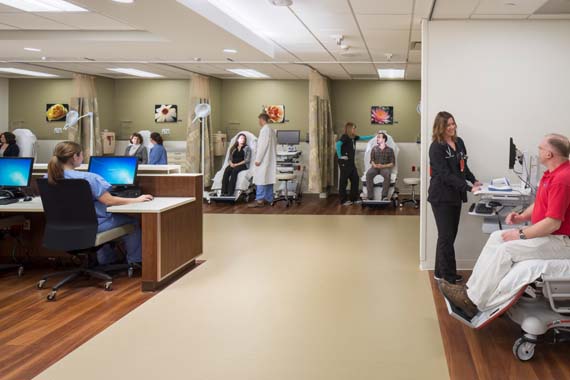 © CannonDesign, Photographer Laura Peters
Sinai Health System, Holy Cross Hospital, Inpatient Behavioral Health Unit, Chicago.
Hamad Medical Corp., Hamad General Hospital in Doha, Qatar.
---
Manuel Hernandez, MD, MBA, FACEP, CPE, principal and health practice leader, CannonDesign (Chicago); assistant professor, department of emergency medicine, Penn State Health/Milton S. Hershey Medical Center 
WHO HE IS: As a practicing emergency physician, Hernandez has struck a unique professional balance, bringing an understanding of the user experience to his role at CannonDesign. Since joining the firm seven years ago, he's supported its transition from a traditional architecture and engineering practice into a comprehensive healthcare design practice, delivering insight to clients on strategy, operations, workforce models, consumer experiences, and facility solutions—all with an eye on ensuring the firm's practice is responsive to the emerging realities of the business of healthcare, which he's all too familiar with. At Penn State Health/Milton S. Hershey Medical Center, he serves as an attending physician, providing patient care to adult and pediatric patients in the Level 1 trauma center, seeing as many as 75 patients at any given moment and collaborating with other physicians and nurses while supervising and directing residents and medical students working in the ED.
YEAR IN REVIEW: Hernandez's unique insight helped shape several projects in the past year. For Arnot Health in Elmira, N.Y., he identified what factors will affect the system's future care delivery and then translated those findings into development initiatives, including providing primary care within a 15-minute drive of all people in the market and embedding behavioral health services in primary care sites. For Sinai Health System in Chicago, Hernandez lead an effort to re-envision models of care and operations, identifying solutions such as a short-stay observation unit and behavioral health inpatient unit. For Hamad Medical Corp. in Doha, Qatar, he supported the development of a comprehensive site plan and design vision for what will be one of the largest EDs in the world. Additionally, his firsthand healthcare knowledge has helped lend clarity in an uncertain time to design colleagues—within his firm and nationally—publishing articles and speaking on the current state of healthcare and other industry challenges. This year he also received recognition from the dean of the College of Medicine at Penn State for achieving Press Ganey scores above the 99th percentile.
WHAT'S NEXT: Hernandez has become the first physician to enroll in the Master of Science in Strategic Design and Management program at The New School Parsons School of Design. He'll begin coursework that includes applying design and design thinking methodologies to addressing complex business challenges and expects to earn his degree in 2018. He plans to leverage this experience to continue advancing disruptive and transformational innovation in design. (UPDATE: In February 2018, Hernandez joined Kahler Slater [Milwaukee] as principal, strategic innovation/co-practice leader, for the firm's healthcare team.)