Making Bold Moves In Healthcare Aesthetics
---
Hans Weber Visualization, © 2018 Perkins+Will
The surgical waiting area at Tahoe Group, Chengdu Xilian Women's and Children's Hospital in Chengdu, China, designed by Perkins+Will, is inspired by the traditional Chinese garden pavilion.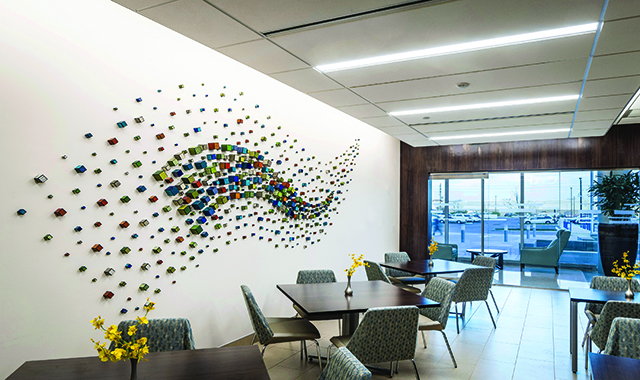 Chris Butcher
A café at Community Cancer Center North, designed by CallisonRTKL, features neutral finishes and pops of color introduced through an art piece comprising individually painted wooden blocks arranged in an organic pattern to symbolize the collaboration of medical professionals and patients at the hospital.
Jeffrey Totaro
The clean and simple design of a pediatric clinic waiting area at the University Health System Robert B. Green building in San Antonio, Texas, is accentuated by custom mosaic art in the floor. The project was designed by CallisonRTKL.
© Craig Dugan Photography
At University of Minnesota Health Clinics and Surgery Center in Minneapolis, designed by CannonDesign, color is infused into the spacious waiting areas through a variety of bold seating options.
Hans Weber Visualization, © 2018 Perkins+Will
The design of the OB-GYN waiting area at Tahoe Group, Chengdu Xilian Women's and Children's Hospital is a modern interpretation of traditional Chinese architecture, including patterned art glass for privacy from public circulation, custom screens to define seating groupings, and curated accents that reinforce the Tahoe brand throughout.
© CannonDesign, Laura Peters
Meticulous details and modern finishes were inspired by the hospitality industry at the UC San Diego Health, Jacobs Medical Center in La Jolla, Calif., designed by CannonDesign.
Chris Butcher
Translucent glass slider doors on the private infusion suites at Community Cancer Center North in Indianapolis, designed by CallisonRTKL, feature an abstracted branch pattern inspired by the winter season. Soft hues of cream and mint green create a serene environment for the patients receiving treatment.
---
The aesthetics of healthcare facilities have evolved significantly in recent years, as owners look to design as yet another way to differentiate themselves in the competitive landscape. More subdued, neutral approaches of the past are now being complemented with bolder, design-forward concepts finding a home in brand standards.
"Health systems are considering ways to strengthen brand identity across multiple locations and how to attract patients," says Carolyn BaRoss, principal and firm-wide healthcare interior design director for Perkins+Will (New York). "A philosophy and approach for how patients and visitors experience the institution, along with interior standards, not only help institutions manage facilities across their real estate portfolios, but can also create a consistent and recognizable identity."
Additionally, she says when architecture is varied from facility to facility—especially because of mergers and acquisitions—more design uniformity can be accomplished by establishing standards that call for specific signage and brand messaging, colors and materials, furnishings and amenities, and art programs. "So while specifics may shift from location to location, the overall essence of the institutional brand is understood and consistent," she says.
Organizations are able to explore the possibilities of visual branding further thanks in part to new offerings from product manufacturers that deliver striking colors, textures, and patterns—all while still meeting the industry's requirements for durability and cleanability. Together, the result is spaces that push the boundaries of what once defined healthcare. "The trend is for good design regardless of project type, and this yields healthcare interiors that are inspiring," BaRoss says.
But that doesn't mean anything goes. Designers share some inside tips on how to ramp up aesthetics while still considering the intricacies of healthcare.
The basics
While designers say the starting point for most healthcare projects remains minimal interiors with clean lines and little visual clutter to help reduce occupant stress and ease maintenance, public spaces (lobbies, corridors) offer prime real estate to introduce saturated colors, oversized graphics, or detailed patterns. It's a balance that many pediatric facilities have already perfected, inspiring general care providers to do the same, says Dori Mommers, associate vice president at CallisonRTKL (Dallas).
Jocelyn Stroupe, director of healthcare interiors at CannonDesign (Chicago), says introducing more color comes with plenty of benefits, too—if done properly. "Color can enhance the activity within a space, create a positive distraction, and promote wayfinding," she says. However, Stroupe adds that certain colors, such as red, may have negative associations and should be carefully considered. Additionally, some colored surfaces, particularly walls, may affect the appearance of people's skin tones, making it difficult for staff to assess a patient's condition. For these reasons, neutral and soothing tones are still preferred for patient rooms.
Nature remains another popular theme in healthcare aesthetics for its healing effects, but designers are interpreting it in more progressive ways. "Now nature references are often less literal, conveyed through abstracted graphics," says Tamra Green, a senior associate at CallisonRTKL (Washington, D.C.). For example, she says, at the Community Cancer Center North in Indianapolis, translucent glass slider doors on infusion suites were designed to allow light to filter through an abstracted branch pattern inspired by the winter season, introducing nature while also maintaining privacy.
Regional influences
Identifying an ideal aesthetic and branding approach should also be influenced by the patient population and regions being served, as well as a healthcare organization's market objectives. "A facility in Arizona will be quite different than one located in New England due to the local culture," Stroupe says.
The plus side is that introducing aesthetics that are geographically appropriate is also likely to reduce patient stress. For example, for Nantucket Cottage Hospital, which is under construction on Nantucket island in Massachusetts, CannonDesign integrated elements on the interior that reference the sea, sand, and sky as well as the local craftsmanship, including a woven wood wall in the lobby that references the island's deep history in basket making. "We felt it was important to celebrate the island and to design in a way that respected residents' lifestyle and culture," Stroupe says.
BaRoss adds that the intensity of sunlight, regional weather, and the natural surroundings should also be considered when choosing colors. For example, the Tahoe Group, Chengdu Xilian Women's and Children's Hospital in China is located in a warm climate where it's often cloudy. To compensate for this, the texture and color value of interior finishes and lighting quality were intentionally tuned to appear light, luxurious, and uplifting, BaRoss says. Perkins+Will also created a modern interpretation of traditional Chinese architecture for the interior design concept using geometric patterns balanced with gentle curves that are layered on interior elements throughout, from the main lobby to patient care and amenity spaces. "It's a sophisticated, inspired interpretation that pays deep respect to Chinese traditions and beauty," she says.
The payoff
Healthcare projects often take years to come to fruition, and trends and tastes can shift quickly. Experts say the most flexibility can be achieved by delivering stronger aesthetics via finishes that can be easily and inexpensively swapped out, when necessary—for example, in paint or upholstery.
The recent outpatient boom offers even more leeway. Clinics and medical office buildings don't have to adhere to stringent acute care codes, so clients are more receptive to nontraditional approaches. Additionally, these facilities are often located in leased spaces, which may limit their years in operation, putting less pressure on designers to create a timeless interior that clients might otherwise shy away from on a hospital project.
Overall, regardless of location, Stroupe says the focus is no longer on attempting to disguise the healthcare components of a project but instead introduce an aesthetic that best supports the organization and its users. "In the past, we sought to hide medical devices and used quite a bit of embellishment in an attempt to make the hospital look like a hotel or a home," she says. "[Today], there seems to be a greater honesty about healthcare."
Murrye Bernard, AIA, LEED AP, is an architect, writer, editor, and strategist based in Los Angeles. She can be reached at murrye@murryebernard.com.