FIRST LOOK: LincolnHealth's Watson Health Center
---
The new three-story facility will integrate primary, specialty and behavioral health services in one facility.
Large windows allow for natural light throughout the facility and views of the Damariscotta River.
LincolnHealth plans to add additional services to the Watson Health Center, increasing access and convenience for patients in the surrounding suburban and rural areas.
The facility's design was based on a similar model of a recent modernization of Dartmouth Hitchcock Medical Center's Nashua Clinic in Lebanon, N.H. The new Nashua Clinic is a patient-centered medical home that features flexible exam rooms, shared work spaces and a single check-in desk and waiting room for all services.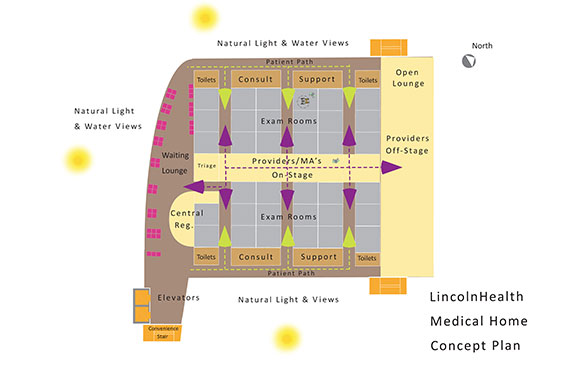 The masterplan for LincolnHealth includes contiguous provider spaces between dedicated off-stage and on-stage areas.
---
LincolnHealth is adding a new $13.7 million patient-centered medical home building to its Damariscotta, Maine, campus. The new 39,800-square-foot Watson Health Center, underway since August and slated for completion in June 2018, will be a one-stop shop for patient care, increasing efficiency and access to medical services for the state's aging population.
The three-story building will feature a 1,000-square-foot ground-floor community room for special-event use, such as educational programs or community meetings, by both facility staff and the public. The ground floor will also provide a new home for Maine Behavioral Healthcare's psychiatry practice. The first floor will house primary care, pediatrics and internal medicine practices, along with consultation space for a dietician, pharmacist, social workers and other support professionals. The second floor will host specialty practice areas for OB-GYN, surgery, orthopedics, ENT and urology.
LincolnHealth's medical services are currently located in four separate, older residential-style buildings. By integrating primary, specialty and behavioral health services in one facility, staff will be better positioned for in-person communication, increasing interdisciplinary collaboration to deliver more coordinated care.
One of the most important pieces of the facility's design is the incorporation of a perimeter corridor circling the exam rooms, allowing for simplified patient wayfinding. Consultation rooms will be located next to exam rooms along the perimeter corridor for natural light and potential conversion into additional exam rooms as demand requires. Exam rooms throughout the facility are universal, allowing practice lines between provider groups to blur and the flexibility to adapt to patient needs.
The new facility was designed by E4H Environments for Health Architecture (Boston) and will be constructed by Hebert Construction Corporation (Lewiston, Maine).