PHOTO TOUR: Studio Dental
---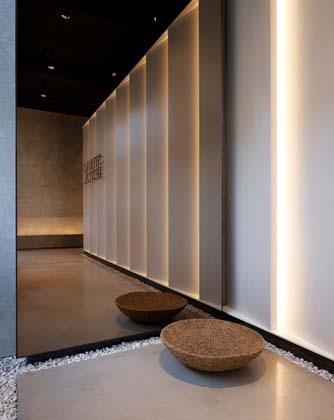 Kevin Scott
Smoked mirrors expand the space and elongate the glow of the lantern in the foyer.
Kevin Scott
The space between the lantern and wood trellis provides circulation from the entry to reception and an enclosure for the open operatories.
Kevin Scott
Illuminated wood panels provide privacy for patients while also directing the circulation from the street front to the interior.
Kevin Scott
The neutral material palette of oak wood panels, smoked mirrors, white gravel, and concrete evokes a sense of serenity and calm.
Kevin Scott
A wood trellis feature separates the waiting area from the doctor's office.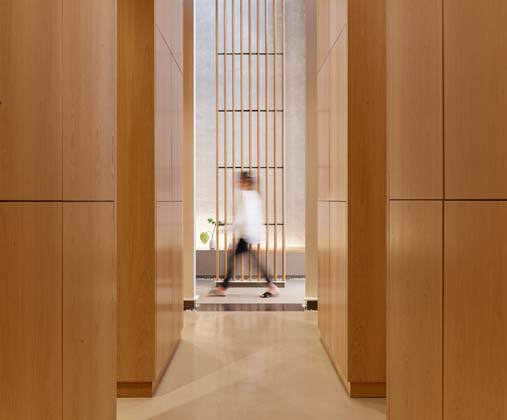 Kevin Scott
A series of tall millwork storage units defines the footprint of each private patient room.
Kevin Scott
Monitors are provided overhead to draw patients' attention upward, creating a dramatic sense of scale within a small footprint.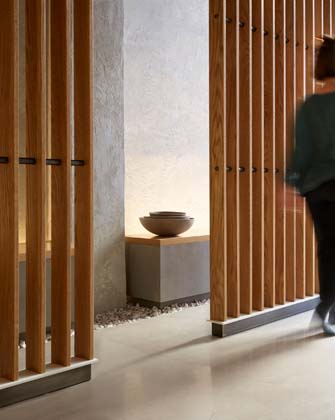 Kevin Scott
Intentional material contrast between the rough wall texture, refined wood trellis, and polished concrete floor creates depth and dimension within the interior spaces.
Kevin Scott
The modern aesthetic of the interior lantern feature stands out against the historic elements of the base building façade.
---
Situated within a rapidly developing neighborhood in San Francisco's financial district, Studio Dental's first brick and mortar location is defined by a modern aesthetic, while honoring the historic elements of the base building.
The design, by Montalba Architects (Santa Monica, Calif.), centers on a conceptual "lantern" to communicate a sense of scale, luminescence, and transparency. The lantern envelopes the operatories within the center of the 1,400-square-foot office, which opened in June 2017, and provides patient privacy while engaging with the pedestrian street front in an effort to energize the surrounding community.
In place of a traditional waiting room, a park-like bench extends the length of the space. Wood trellises provide separation between the bench and patient care area without closing off the space. A central colonnade of maple monoliths serves as functional storage and defines the entry to each private patient room.
Project details:
Facility name: Studio Dental
Location: San Francisco
Completion date: June 2017
Owner: Studio Dental
Total building area: 1,400 square feet
Total construction cost: $2 million
Cost/sq. ft.: $1,428/square feet
Architecture firm: Montalba Architects
Interior design: N/A
Contracting: N/A
Engineering: Julia Y. Chen Design, Inc.
Construction: Build Group